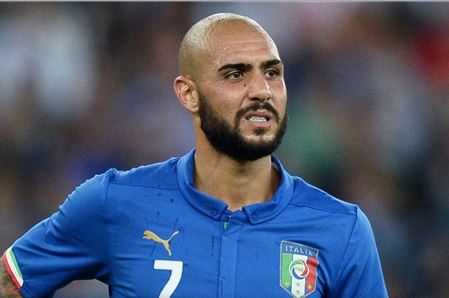 Reports out of Spain suggest that Valencia striker Simone Zaza could return to Italy this summer once the transfer window opens. Spanish publication Levante-EMV reports that Simone is expected to leave Valencia in the summer, with a return to Italy looking like the most likely outcome for the 26-year-old.
In addition to AC Milan, both Torino and Napoli may be interested in securing the striker's signature. Valencia manager Marcelino has reportedly set his sights on a more "dynamic" option up front than he currently has at his disposal, which means Zaza may be on the way out of town.
Most of the best betting sites had Milan listed among the favorites to challenge for the Italian top flight title this season, but it's instead been a bitterly disappointing campaign for Italy's most decorated club. Gennaro Gattuso's side are in a disappointing sixth place position in the Serie A table, nine points adrift of Inter for fifth, and just a point above Atalanta for seventh.
The report suggested that Zaza would be happy to stay where he is, but if the team wants to move in another direction, the player would prefer his future be decided quickly. Simone has bagged 18 goals in a season-and-a-half with El Che, but he has recently fallen out of favor with the manager. As such, a move to a new club makes sense for all involved.
Considering Simone is an Italy international, a return to his home country makes plenty of sense. Zaza began his professional career in Italy with Atalanta in 2008, where he spent two seasons before moving to Sampdoria in 2010. He spent three seasons on lone at various clubs during his Sampdoria spell before landing with Juventus in 2013.
Simone left Juventus immediately after signing with the Serie A giants for a spell at Sassuolo, where he scored 20 goals in 64 appearances. He returned to Juve in 2015, though he wasn't a regular in the squad. In all, the player scored four times in his 19 appearances with Juventus before being loaned out to West Ham of the Premier League for the 2016-17 season.
He was then loaned out to Valencia last year before the deal was made permanent.
One potential stumbling block to a deal for Zaza could be the asking price. Valencia spent €17 million to pry the player from Juventus, and reports indicate that the Spanish side could be seeking as much as €30 million in return for him this time around. Valencia are reportedly going to have to sell players to fund their summer transfer campaign, so it makes sense that the asking price for a player of Simone's calibre may be on the high side.
Rossoneri manager Gennaro Gattuso has not been shy in asserting that his team are in need of reinforcements in attack. Gattuso has reportedly identified Zaza as "one of the players to rebuild the club's identity."
Milan have struggled to adhere to FIFA's Financial Fair Play regulations, so it may be tough for the club to spend that kind of money on a player like Simone this summer.
---
Vuoi commentare questo articolo? Fallo sui nostri Social! Ci trovi su
Facebook
, Twitter, Instagram, Tumblr, Flipboard ed anche altrove. Basta cercarci! -->
Social Zone
---